The academy has established the EAACI Sections on Basic & Clinical Immunology, Asthma, Pediatric, Dermatology and ENT. The sections are represented in the Executive Committee by their chairs and have the opportunity to propose task forces as well as joint sessions with appropriate specialised societies. Every 2 years, new board members, chair and secretary and ExCom members are elected.
JM Assembly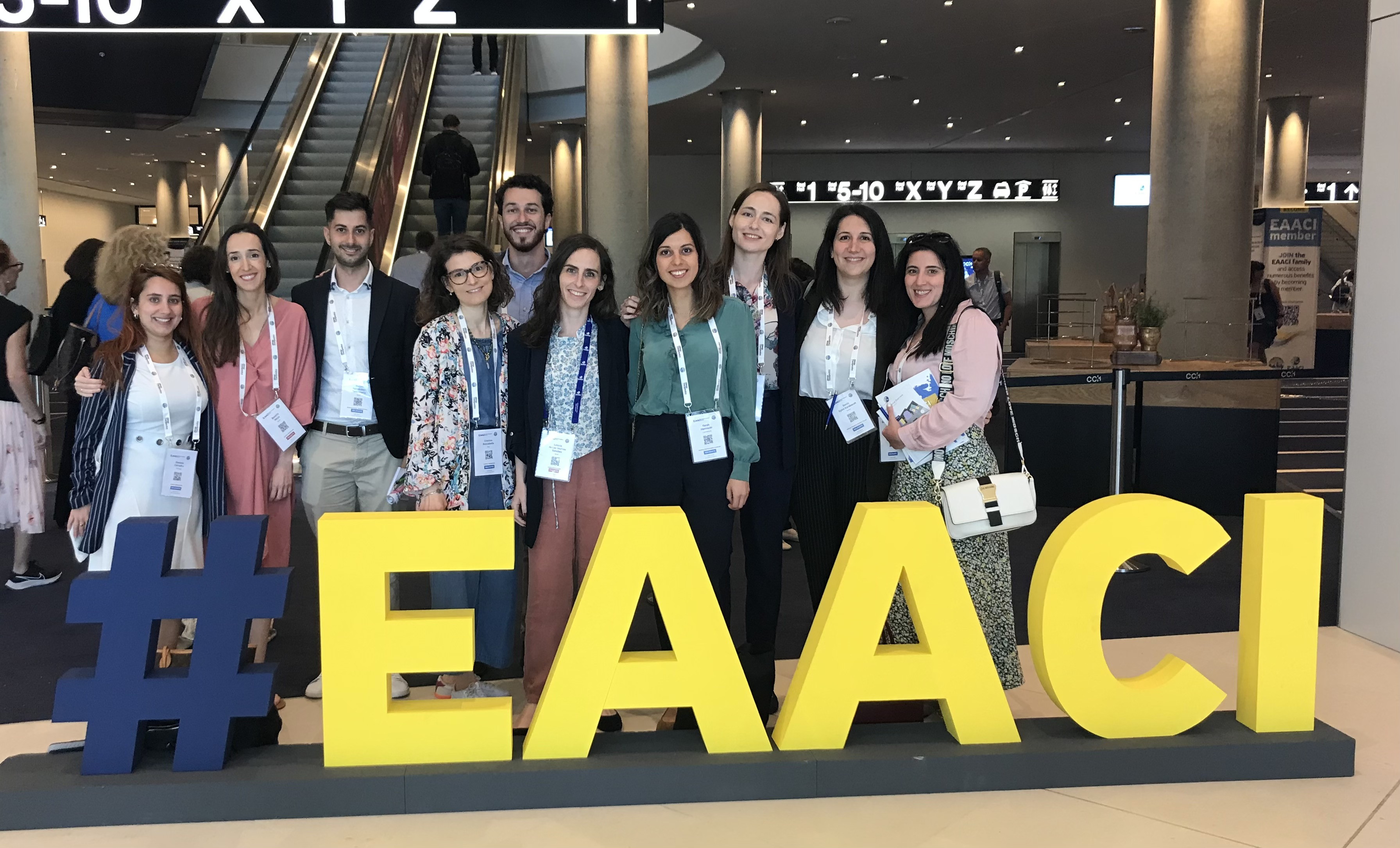 Board 2022-2024
Leticia De las Vecillas Sanchez

Chair

Mattia Giovannini

Section Secretary

Carmen Riggioni

Past Chair

Rubén Fernández-Santamaria

Basic & Clinical Immunology

Daniela Carvalho

Dermatology

Farah Hannachi

Allied Health & Primary Care

Cristina Boccabella

Asthma

Ekaterina Khaleva

Pediatrics

Deniz Eyice Karabacak

Allergen Immunotherapy

Magna Correia

Environmental and Occupational Allergy

Riccardo Castagnoli

Allergy Diagnosis & Systems Medicine

Beatriz Moya

Food Allergy

Marina Labella

Drug Allergy
JMA MAIN ACTIVITIES
EAACI Journals Collaborations
The JMA board collaborate with EAACI journals including Allergy, Clinical and Translational Allergy (CTA) and Pediatric Allergy and Immunology (PAI) papers, especially through Social Media channels (Twitter; Facebook; LinkedIn) to increase the visibility of interesting and updated articles on allergy and immunology, with special interest for Juniors.
The most interesting and recent pieces are selected as JM must read articles every month.
JM News Corner
The JM News Corner in the Allergy journal webpage is a platform where relevant news are periodically posted, mainly related to JMs' achievements, projects and publications. Find it HERE.
We would like to know more about allergy centres all around the world. Please send us a short issue about your clinical and research activities with the description of your workplace (maximum 200 words) and 2-3 high-resolution images of the place, yourself, and your team. We will be glad to share your experience with all the JMs' community.
Contact us at juniormembers@eaaci.org
Groundbreaking Discoveries in Immunology
A recent section on the Allergy journal coordinated by the JMA in which brief summaries based on the most innovative and relevant articles, published in Top-tier journals, are collected. The section is monthly updated. Find it on the Allergy website HERE.

JM Quizz
Every year the EAACI Junior Member Assembly launchs the JM Quiz consisting of 5 questions that will be posted each month from January to April in our Social Media channels.
Participating, you have the opportunity to win a complimentary travel grant of up to 500 euros for the EAACI Annual Congress.
You can still take the JM Quiz 2023 by clicking the following link:
Interest Groups

The EAACI Interest Groups represent an area of more specific interest within allergology. Additionally, Interest Groups provide a focus for scientists and clinicians interested in particular aspects of allergic diseases. The Interest Group forms a focus for discussion at EAACI scientific meetings, provides input to the scientific programme, and can make proposals for the task forces. Every 2 years, new board members, chair and secretary and ExCom members will be elected.

Working Groups

The EAACI Working Groups are established as part of the Interest Groups or Sections. Each chair of the Working Group sits automatically as an additional board member in their respective Interest Group or Section board. The EAACI Working Groups represent relevant and growing scientific areas for the academy and have a clear link or common interest to their Interest Group or Sections.

Task Forces

Task forces are projects that deal with specific topics that are relevant, controversial or new in the field. All EAACI members can apply for a specific task forces in alignment with the chair and secretary of a specific section or interest group. All task forces are supported by EAACI and have been approved by the Executive Committee.
Task Forces can be found on the Knowledge Hub.