Conference of the Parties 27: EAACI Session
Conference of the Parties 27: EAACI Session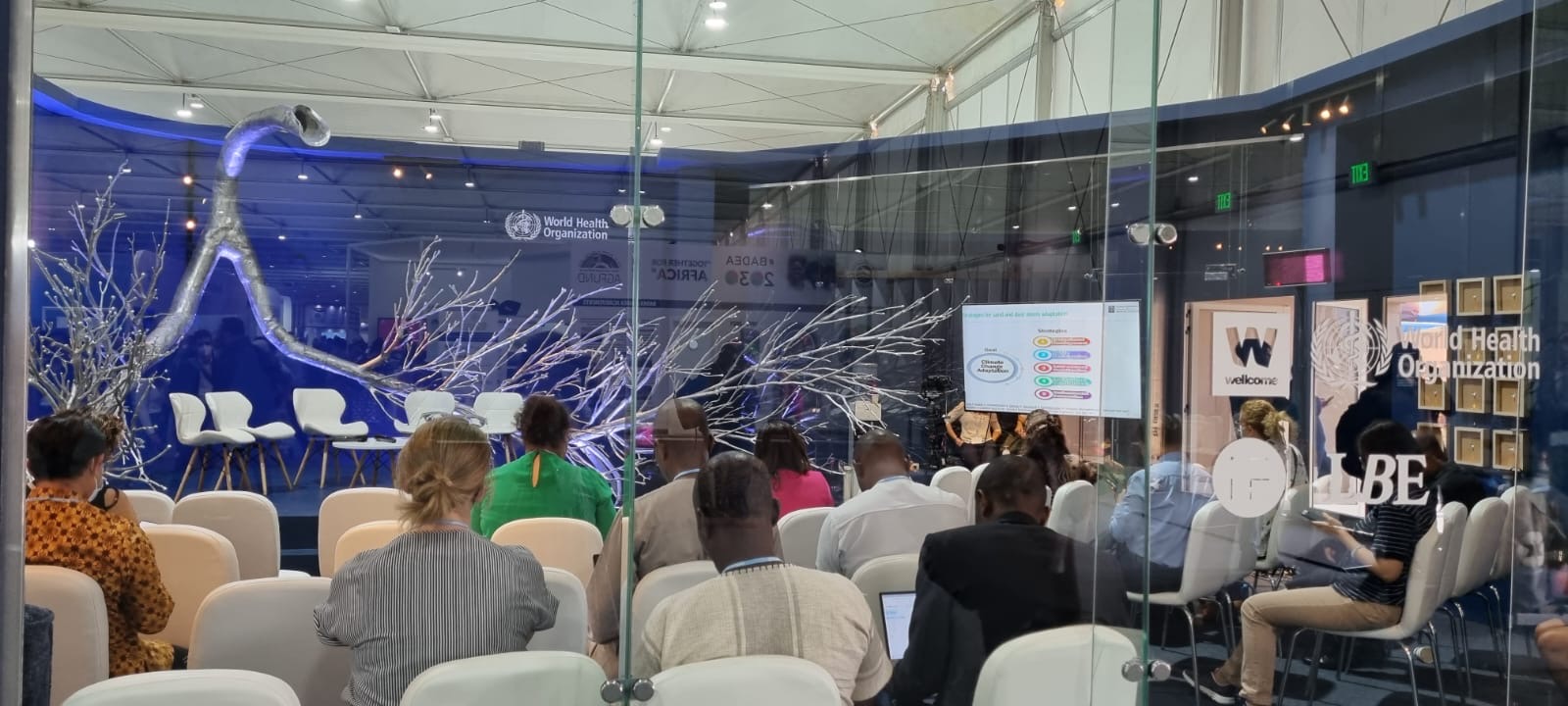 Asthma and allergy – the Perfect Example for Climate Change and Health Outcomes
(Sharm El Sheikh, Egypt, WHO Health Pavilion, 11 November 2022) Temperatures are predicted to rise by at least 4°C until the end of the 21st century. In 2014, the World Health Organisation was asked "who is at risk of climate change?". The answer was "everyone and everywhere" – this holds true especially for those individuals who are vulnerable, children, the elderly, and patients with chronic diseases like asthma and allergic conditions.
Allergic diseases and asthma have increased rapidly in the last few decades and now affect approximately 1 billion individuals in the world. Climate change and global warming directly influence their incidence and severity in numerous ways. For instance, prolonged warm seasons cause lengthier, and more pro-inflammatory pollen periods; natural disasters and flooding increase moisture and the risk of mold; and air pollution, wildfires and dust storms lead to more attacks or worsening of symptoms for asthmatic patients. In the last 50 years, more than 200,000 new anthropogenic substances have been released into the exposome without a full understanding or strategies to mitigate their proinflammatory, allergenic, epithelial barrier and microbiota damaging toxic effects, and the alarming loss of biodiversity we are experiencing in recent years adds to the problem.
The health crisis is clearly linked to climate change and nature loss. Therefore, the health and environmental crises must be solved together.
At a session held at the Health Pavilion and hosted by the World Health Organisation during the COP27 in Sharm El Sheikh, Egypt, the European Academy of Allergy and Clinical Immunology (EAACI) discussed some of the salient climate change science pointing to allergic diseases and asthma being typical examples of environmentally-driven chronic diseases and thus heavily impacted by planetary health. The need for joint and interdisciplinary action to understand and mitigate the impact of climate change in order to successfully prevent and manage these diseases was emphasised. The session was moderated by Mübeccel Akdis, SIAF, Switzerland.
Mübeccel Akdis

Switzerland
Industrialisation and biodiversity loss
There have been two trends in the past years: a loss of biodiversity (the Living Planet Index published by WWF paints a frightening picture: in just 48 years the abundance of more than 5000 vertebrate species has decreased by 69%) and a parallel rise in chronic inflammatory diseases. The "biodiversity hypothesis", brought forward by Tari Haahtela, Helsinki University, Finland states that this declining biodiversity causes a microbial imbalance in our protective layers, a disturbed immune response and a high risk of allergy and chronic inflammatory disorders. The connection between the human body and environmental ecosystems is mediated by the barrier microbiome in the gut, skin and mucous membranes of airways. A variety of microbes and biogenic chemicals in soil, natural water and ambient air have been shown to positively guide our immune response to recognise real danger from perceived, and humans need a continuous exposure to them in order to be healthy. Therefore, what we breathe, eat and touch is important. The highly successful Finnish Allergy Programme implemented changes in diet, increased connection with soil, greenness and animals, promoted outdoor activities, and led to a dramatic decrease in patients presenting allergic diseases and asthma, together with extraordinary savings in direct and indirect healthcare costs.

The Epithelial Barrier Hypothesis
Allergic diseases and asthma are more common in industrialised countries, and their prevalence continues to rise in developing countries as they urbanise. Intact skin and mucosal barriers are crucial for the maintenance of tissue homeostasis as they protect host tissues from infections, environmental toxins, pollutants, and allergens. A defective epithelial barrier has been demonstrated in allergic and autoimmune conditions such as asthma, atopic dermatitis, allergic rhinitis, chronic rhinosinusitis, eosinophilic esophagitis, coeliac disease, and inflammatory bowel disease. "The epithelial barrier hypothesis", presented by Cezmi Akdis, SIAF, Switzerland states that the increase in the exposure to epithelial barrier-damaging agents, such as detergents, household cleaners, packaged food emulsifiers and preservatives, air pollution and many so far unidentified chemicals underlies the rise in allergic, autoimmune and other chronic conditions in the last fifty years.

Pollen and fungal spores
Pollen is not only inducing allergies but also paves the way towards rhinoviral and other viral infections, including SARS COV-2. Longer warm seasons lead to more pro-inflammatory and extended pollen seasons . Studies that combine exposure measurements of environmental factors with reactions to provide early prediction, alerting, forecasting and prevention strategies are needed: these will enable us to save lives and ease the economic burden. Claudia Traidl Hoffmann, University Augsburg, Germany presented automatic, real time bioaerosol monitoring using image processing analysis and machine learning algorithms, which has an accuracy of 70-90% in Germany. This is a large improvement from the manual devices used in the past, which are no longer valid solutions for modern times. Continuous research is needed to understand pollen types, quantities and locations; working with satellite systems to obtain spatial information and alert for risk; determining cumulative exposure risks and the long-distance transport of pollen; and monitoring of fungal spores.
Claudia Traidl Hoffmann

Germany
Pollution
Those with allergic asthma are most affected by changes in air quality and increases in pollutants. Blandina Theophil Mmbaga, Director of Kilimanjaro Clinical Research Institute, Tanzania , presented the Children Air Pollution Profile in Africa (CAPPA) study in Tanzania , which evaluated 919 children and determined that they were exposed to levels of Particulate Matter 2.5 μg/m3 above the WHO recommended limit, especially so in industrial areas and during commuting times, with increased asthma morbidity. The study generated government commitment for targeted air quality interventions; evaluations of air pollution sources; the provision of school emergency asthma kits; and more education on asthma awareness.
Blandina Theophil Mmbaga

Tanzania
Dust Storms and Heat Waves
Abbas Ostadtaghizadeh, Tehran University of Medical Sciences, Iran discussed allergies and asthma in the Middle East, a region prone to dust storms: the most common sources of natural particles, allergens, and pollutants. Dust storms cause extensive emergencies each year, impact heavily human health and increase mortality and morbidity through a multitude of factors such as fungi and bacteria, inhalable metal elements, allergens and particulate matter entering the respiratory tract and lungs. A study including educational development, public participation, intersectoral coordination, institutional development, and environmental preservation, with the goal of adapting to climate change was devised.
Abbas Ostadtaghizadeh

Iran
How is EAACI tackling the link between climate change and allergic diseases and asthma?
The One Health concept recognises that the health of people and animals and the health of our
shared environment are interconnected and interdependent. As asthma and allergies are typically environmental driven diseases, this concept is at the heart of EAACI's activities. Joint efforts are needed in education, communication, clinical care, disease surveillance, comparative medicine and environmental research, development and evaluation of new diagnostics, medications and vaccines, and informing and educating political leaders and public. The following are some of the many activities EAACI is undertaking towards this aim, and were presented by Ioana Agache, University of Transylvania Brasov, Romania.
The EAACI One Health Working Group with its a broad range of fields of expertise: nutrition/dietetics, ecology, biology, microplastics, agriculture, veterinary medicine, wildlife experts, aerobiology, explores the linkages between human, animal and environmental health.
The EAACI Epithelial Working Group advances our understanding of the factors and molecular mechanisms associated with 'leaky barriers', developing and validating experimental models to monitor the trafficking of environmental antigens across a leaky epithelial barrier; to inform approaches for the prevention, early intervention and development of novel therapeutic approaches.
The EAACI "Global Atlas on Planetary Health" is being developed as part of the worldwide recognised Global Atlas series, highlighting the need for the allergic diseases and asthma burden to be recognised as a main concern in national health strategies. The Atlas will be an educational tool and a desktop reference for medical students, allied health workers, primary care physicians, pharmacists, medical industry, policy makers, patient organisations and specialists dealing with environmental driven diseases.

New Guidelines to implement in practice
An integrated approach to environment and health policies is needed to tackle environmental risks, based on high quality evidence to implement appropriate measures. This requires high quality tools in a form of a framework delivered by the Academia in the format of evidence-based guidelines . The EAACI Environmental Science Guidelines, presented by Marek Jutel, University of Wroclaw, Poland , which will be published shortly, follows 3 out of the 5 domains of environmental science (atmospheric sciences, ecology, environmental chemistry, geosciences, and social sciences) in relation to allergic diseases and asthma. The guidelines are an important tool for health care professionals, basic and translational scientists, ecologists, climate change activists, regulatory bodies and policy makers, consumers, and patients and caregivers to understand the impact of environment on allergic diseases and asthma from inception to severity.

About EAACI:
The European Academy of Allergy and Clinical Immunology (EAACI) is an association of clinicians,
researchers and allied health professionals founded in 1956. EAACI is dedicated to improving the health of people affected by allergic diseases. With more 14 000 members from 125 countries and over 75 National Allergy Societies, EAACI is the primary source of expertise in Europe and worldwide for all aspects of allergy.
Contact:
EAACI Headquarters, Hagenholzstrasse 111,
3rd Floor 8050 Zurich, CH- Switzerland
Tel: +41799561865
communications@eaaci.org
www.eaaci.org