Join the EAACI session at COP27
Join the EAACI session at COP27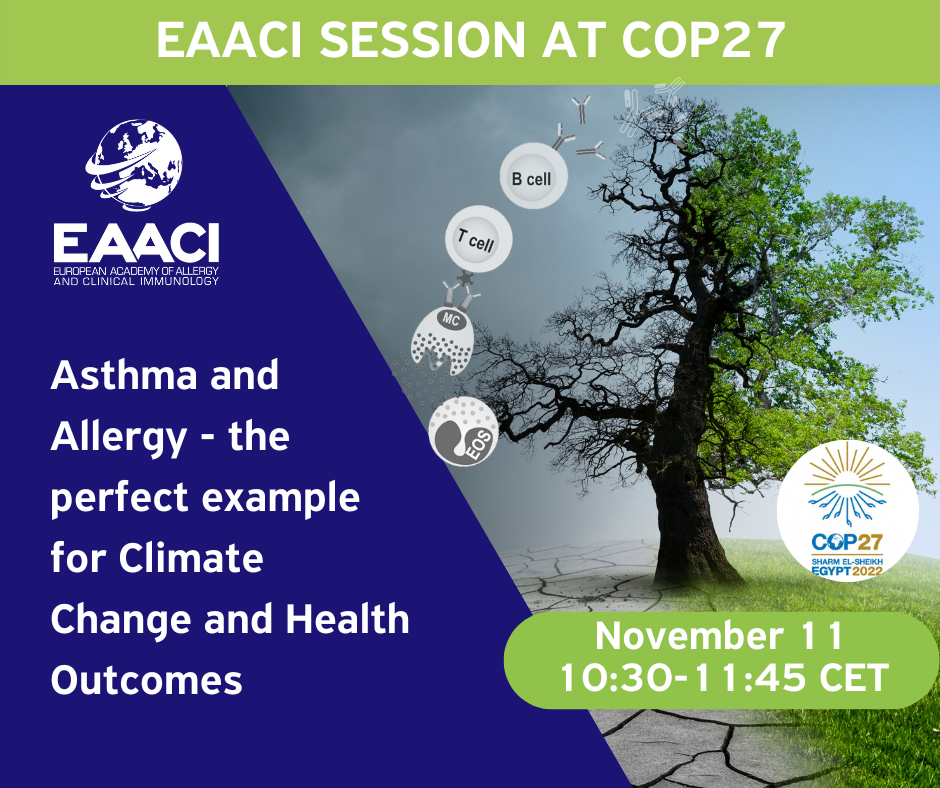 Dear Colleagues,
The Health Pavilion, hosted by the WHO within the COP27 UN Climate Conference, will convene the global health community and its partners to ensure health and equity are placed at the centre of the climate negotiations. It offers a rich 2-week programme of events showcasing evidence, initiatives and solutions to maximise the health benefits of tackling climate change across regions, sectors and communities.
EAACI is thrilled to announce we will be present with a full session on November 11 at 10:30 – 11:45 CET on Allergy and Asthma – The Perfect Example for Climate Change and Health Outcomes.
We look forward to you joining us in this virtual event, at the heart of the most important annual opportunity for countries to negotiate agreements to advance climate action, and where the environmental impact on allergic diseases and asthma can achieve a momentous visibility.
Ioana Agache EAACI ROC Chair
AGENDA, 11 November 10:30 – 11:45 CET
Most of the factors implicated in the increasing prevalence of allergic diseases suggest that the radical change in the exposome caused by human interventions impact early-life immune responses, the microbiome and surface tissue barriers throughout the whole life of humans, but also affect the nature of the planet and all living organisms. Climate change and global warming are increasing the incidence of allergy, asthma, and other chronic diseases disorders as well as their severity.
Allergic diseases and asthma are typical examples of environmentally-driven chronic diseases with complex pathogeneses; and as such measures addressed to mitigate the impact of climate change provide an optimal tool to manage, and prevent these diseases.
Meet our panel
Mübeccel Akdis, Switzerland

Moderator

Ioana Agache, Romania

EAACI and One Health

Cezmi Akdis, Switzerland

Epithelial barrier and the immune system as key tools for resilience

Blandina Theophil Mmbaga, Tanzania

Climate change and allergies in Africa

Abbas Ostad Taghi Zadeh, Iran

Climate change and allergies in the Middle East

Claudia Traidl-Hoffmann, Germany

Real time monitoring and alert systems

Tari Haahtela, Finland

Integrated prevention of NCDs, nature loss, and climate change

Marek Jutel, Poland

EAACI Guidelines on environmental science
Share the event with your networks and colleagues and support us in promoting!