Explore our EAACI Knowledge Hub Module: Towards precise management of drug allergy
Explore our EAACI Knowledge Hub Module: Towards precise management of drug allergy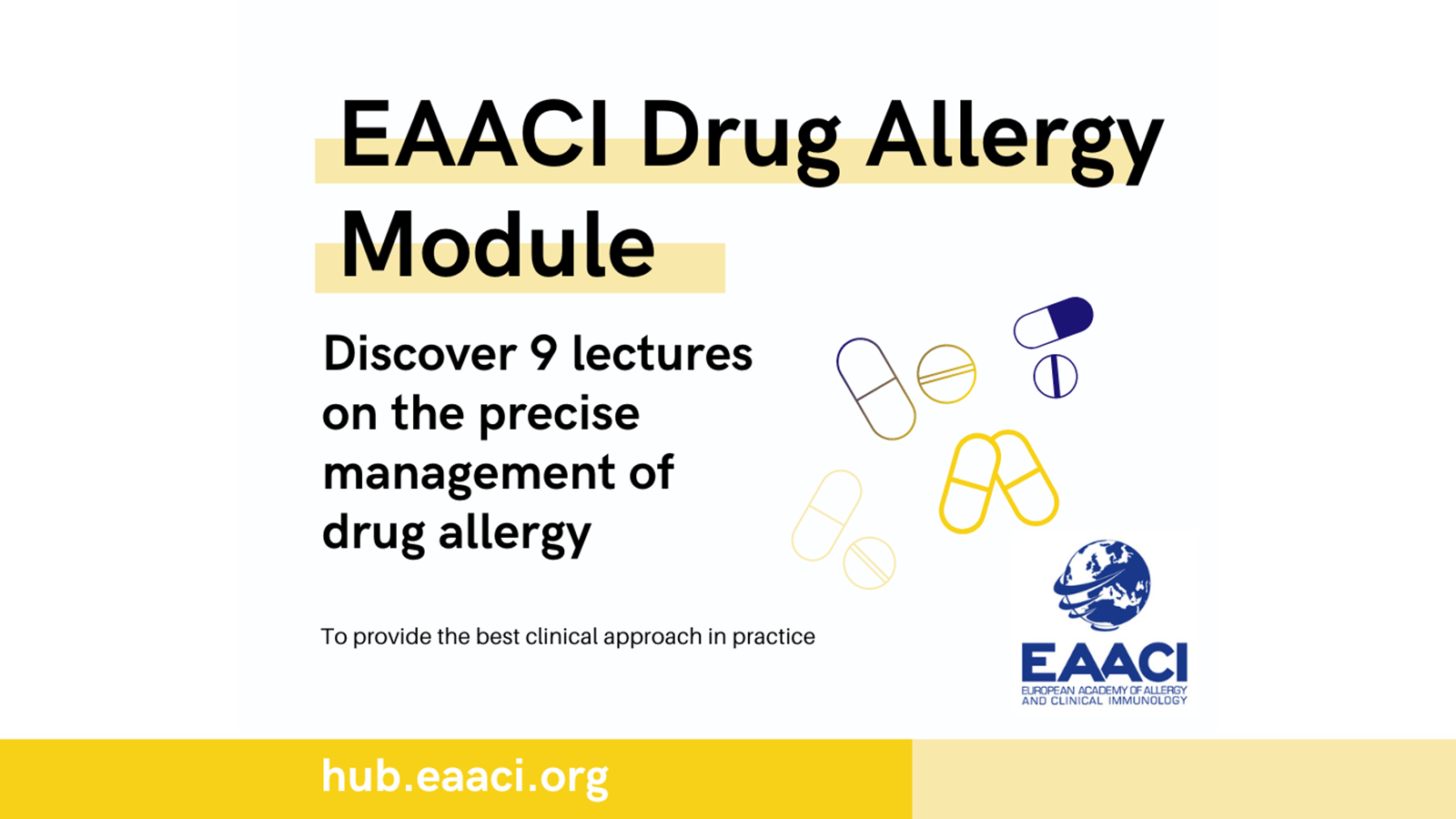 We encourage you to discover our newest EAACI Knowledge Hub content: "Towards the precise management of drug allergy".
The aim of the module is to provide basic and advanced knowledge on the diagnosis and management of drug allergy, to provide the best clinical approach in practice.
This educational tool consists of three modules, including 9 lectures given by well-known experts in drug allergy.
The first module focuses on the major diagnostic tools in drug allergy, namely skin tests in immediate and non-immediate drug hypersensitivity reactions (HRs), drug provocation test, the gold standard diagnostic method of both immediate and non-immediate drug HRs, and basophil activation test, the most supportive in vitro diagnostic method in immediate drug HRs.
Skin tests, by Vito Sabato, University of Antwerp, Belgium
Drug provocation tests by Annick Barbaud, Sorbonne University, France
Basophil activation tests by Cristobalina Mayorga, Hospital Regional Universitario de Málaga-ARADyAL, Málaga, Spain
The second module focuses on management of common drug allergies. These are non-steroidal anti-inflammatory drugs (NSAID) hypersensitivity, beta-lactam allergy and finally perioperative hypersensitivity.
Management of NSAID hypersensitivity by Inmaculada Dona, Hospital Regional Universitario de Málaga-ARADyAL, Málaga, Spain
Delabeling and management of beta-lactam allergy by Maria Torres, Hospital Regional Universitario de Málaga-ARADyAL, Málaga, Spain
Management of perioperative hypersensitivity by Lene Heise Garvey, University of Copenhagen Denmark
The third module describes the challenges in drug allergy which include allergy to chemotherapeutics and biologics, COVID-19 vaccines allergy and allergy to radiocontrast media. The aim of this module is to present common difficult drug allergies and how to diagnose and manage each clinical condition.
Allergy to chemotherapy and biologics by Ricardo Madrigal-Burgaleta, Universidad Internacional de Andalucía, Sevilla, Spain
COVID vaccines allergy by Asli (Gelincik) Akkor, Istanbul University, Turkey
Allergy to radiocontrast media by Knut Brockow, Technical University Münich, Germany
By attending the modules, students, allergy trainees, allergists, all HCPs with the chance to come across drug allergy, and also academicians can have the benefit of updating their knowledge in drug allergy.
Live Q&As with the speakers will be scheduled and announced in the following weeks, and eventually you will have the possibility to gain CME accreditation by watching the module and taking the assessments!
Head over to hub.eaaci.org to discover the new EAACI Drug Allergy module!
Watch an introduction to this exciting module by Prof. Asli Gelincik Akkor and Prof. Maria Torres!