European Academy of Allergy and Clinical Immunology (EAACI) Annual Congress 2023 is starting on Friday
European Academy of Allergy and Clinical Immunology (EAACI) Annual Congress 2023 is starting on Friday
Shaping the Future of Allergy and Immunology
Hamburg, Germany – June 8, 2023 – The European Academy of Allergy and Clinical Immunology (EAACI) is delighted to announce its highly anticipated Annual Congress to start in Congress Centre Hamburg, Germany, from June 9 to 11, 2023. This prestigious event will bring together world-leading experts, healthcare professionals, researchers, and industry representatives from across the globe to share knowledge, exchange ideas, and discuss advancements in the field of allergy and clinical immunology.
The EAACI Congress 2023 is set to be an exceptional gathering, highlighting ground-breaking research and innovations that have the potential to revolutionize the management and treatment of allergic diseases and immune disorders.
"We are excited to host the EAACI Annual Congress 2023 in the vibrant city of Hamburg, bringing together experts and professionals from various disciplines to advance our understanding and treatment of allergic diseases and immune disorders. It is truly unique event," says EAACI VP Congresses Mohamed Shamji.
The three-day event will encompass a diverse range of sessions, including plenary lectures, symposia, interactive workshops, oral and poster presentations, and specialized sessions for allied health professionals.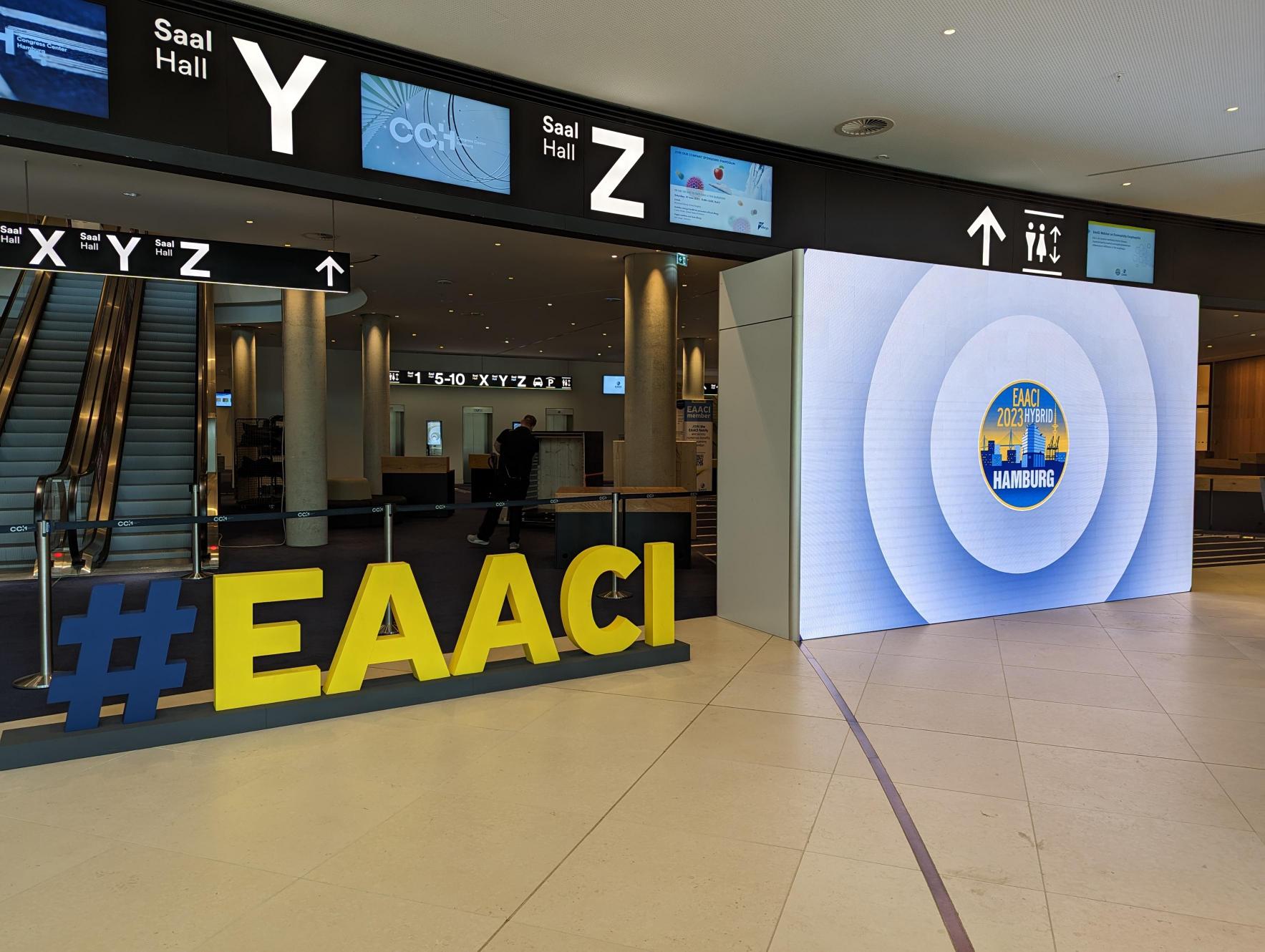 Pathways from precision medicine to personalised health care
One of the key focuses of this year's congress is personalized medicine and precision allergy. Renowned speakers will delve into the latest advancements in diagnostic tools, biomarkers, and treatment strategies tailored to individual patients, emphasizing the importance of targeted therapies, and optimizing patient outcomes. Attendees can look forward to gaining insights into cutting-edge research and practical applications that are shaping the future of allergy and clinical immunology.
The congress will also explore the impact of environmental factors on allergic diseases. With the increasing prevalence of allergies worldwide, sessions will address the influence of climate change, pollution, and urbanization on the development and exacerbation of allergies. Researchers and experts will present their findings, fostering collaborations and promoting interdisciplinary approaches to combat the environmental challenges affecting global health.
In addition, the EAACI Congress 2023 will feature sessions on emerging topics such as food allergies, asthma, immunotherapy, drug allergies, and atopic dermatitis. These sessions will provide a platform for attendees to stay updated on the latest research findings, clinical guidelines, and therapeutic innovations. Furthermore, dedicated sessions will address the specific needs of pediatric patients, ensuring comprehensive discussions on pediatric allergy and immunology.
"This event will serve as a catalyst for collaboration, innovation, and knowledge exchange, with the ultimate goal of improving patient care and quality of life. We have over 7000 participants from all over the world, which makes this one of the largest gatherings of its kind. It is still possible to sign up and join even from home as we organize the event as a hybrid. Our advanced digital platform ensures a rich digital experience and participation," says EAACI President Stefano Del Giacco.
The EAACI Congress 2023 promises to be an enriching experience for participants, offering unparalleled networking opportunities, access to renowned experts, and a platform for showcasing ground-breaking research. Media representatives are invited to attend and cover this esteemed event, which will undoubtedly shape the future of allergy and clinical immunology.
For more information about the EAACI Annual Congress 2023 and to register, please visit the official website at eaaci.org/events_congress/eaaci-congress-2023/. Join the conversation on social media using the official hashtag #EAACI2023.