EAACI Launches the Knowledge Hub
EAACI Launches the Knowledge Hub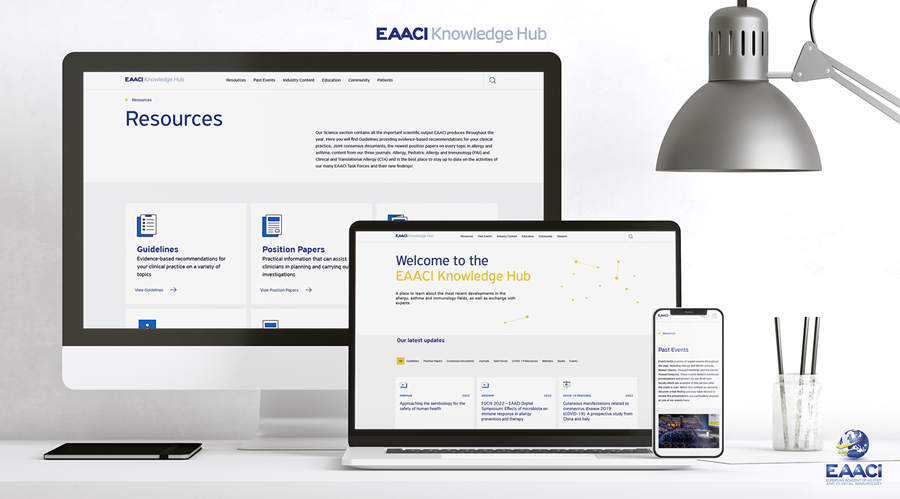 We have a huge new update for you! EAACI is proud to announce the launch of the EAACI Knowledge Hub: a fresh and interactive digital platform where science, education, resources, public outreach and vast possibilities to network with your peers are made available to you under one roof.
Do you wish to read the latest research in terms of guidelines, books, journals and position papers? Are you curious to see what our many Task Forces are working on and how you can contribute? Or simply find out what the latest news in our field is? Are you craving to re-view content from our past events and congresses? Would you like to deepen your education by watching topical courses on specific subjects? Do you want to build long-lasting connections with the 13,000 members who are part of our specialized academy? Are you a patient looking for helpful resources to manage living with allergy or asthma?
Whether you are a clinician, researcher, allied health professional or patient, the EAACI Knowledge Hub offers infinite possibilities to find up-to-date and trustable content from our experts.
Please note that as part of this new initiative, our EAACI website will transform quite a bit! Many of our website pages can now be found on the EAACI Knowledge Hub, in an effort to centralise all that is scientific or educational in one place for your convenience.
The following pages have migrated and can be accessed via hub.eaaci.org:
Events (content from our past events will be re-watchable on hub.eaaci.org while upcoming events will be featured on eaaci.org)
Science (activities from Task Forces, the EAACI COVID-19 centre, links to the EAACI Journals, and newest guidelines and position papers will be found on hub.eaaci.org)
Education (news on the EAACI Knowledge exam, courses, modules and webinars will be now available on hub.eaaci.org)
Advocacy and public outreach (EAACI activities with the scope of informing and raising awareness to our stakeholders, patients, and EU-wide can be explored on hub.eaaci.org)
We encourage you to discover the EAACI Knowledge Hub and hope you will find it just as informative and engaging as we do!
Ocar Palomares
Knowledge Hub Editor
Magdalena Zemelka-Wiacek
Knowledge Hub Deputy Editor
Asli (Gelincik) Akkor
Knowledge Hub Deputy Editor