In memory of Frans Timmermans
In memory of Frans Timmermans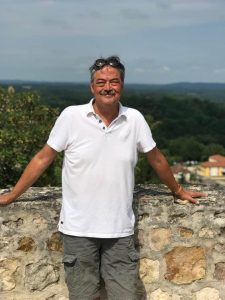 Frans Timmermans was born October 27, 1953, in Rotterdam. He trained as a mechanical engineer and worked for Shell for many years. Later, he also graduated in social sciences. He retired in 1996 to health issues. From that moment on he dedicated himself to anaphylaxis, related to the fact that one of his daughters was found to be severely peanut and nut allergic. Much to his surprise he found that information for patients and parents of food allergic children was missing. This was the main reason to found the Dutch Anaphylaxis Network, which focused on teaching parents of allergic children and the patients themselves, so that they became more knowledgeable about their disease and were better informed about treatment. Later on, it branched out by giving trainings to patients, not only on how to use their adrenalin auto injectors but also to ensure that restaurants and hotels accommodated their needs by means of role plays. Frans also developed a website where patients could find information about allergy and anaphylaxis.
Frans was also important in involving the patients in EAACI, being the first patient member of the EAACI board. Thanks to him, the voice of patients is much better heard. He also participated in the development of many EAACI guidelines.
Apart from his tireless efforts for patients with anaphylaxis, Frans was a dedicated father to his four children, and a proud grandfather. He enjoyed cooking for his friends and his Singapore noodles were famous, just like his sateh.
In the past two years, his health deteriorated but he stayed optimistic and was still full of plans when he passed away on November 9.
Messages from POC Friends
The EAACI Patient Organisation Committee is deeply saddened to hear of the unexpected passing of our dear friend and colleague, Frans Timmermans. Our heartfelt condolences are sent to his family, who we know he held closest to his heart.
Frans was a dedicated patient advocate for all who live with allergy and asthma, and he was involved in the EAACI Patient Organisation Committee from the outset. He held the Chair of the POC role for several years and during that time reached out and engaged a global connection of other patient advocates in joining the POC. He was the first point of contact with EAACI for many of us and he shared his knowledge and supported us in our advocacy. He was passionate, warm, giving and fun. We will all miss him dearly. Rest in Peace Frans.   
Frans was a gentle man of integrity who loved to be with people. I first met him in Washington, DC in the year 2000 or 2001 and then met with him and all the International Alliance members yearly in the US before we started meeting at EAACI in Europe in 2011. Frans was an active member of the Alliance and then the EAACI Patient Organisation Committee. He was always learning and sharing, always trying to improve the lives of people with food allergy.
Frans had an understanding of human behaviour and worked hard to help people manage food allergies. We last met with Frans in Florence in 2019. He was warm and giving, always reaching out to include everyone. I will remember his smile, his warmth and understanding and his persistence in doing what he could for people with food allergy. He loved his family greatly and was a caring friend to many. Frans will be missed. May he Rest in Peace.
Maria Said, CEO Allergy & Anaphylaxis Australia
Frans was such a lovely man. He contacted me when I first took on my role as CEO of Allergy UK and invited me to come to the EAACI conference and join the Patients Organisation Committee (POC). He was the POC Chair for many years and provided so much support for us all, supporting EAACI in engaging with patient advocacy. I remember his relaxed approach, whilst complete dedication to improving the lives of people living with allergy and asthma. We will miss him dearly and his contribution and friendship will not be forgotten.
Carla Jones, CEO Allergy UK and current Immediate Past Co-Chair of EAACI POC
I came to know Frans when I was CEO of the Anaphylaxis Campaign. His knowledge and understanding of Anaphylaxis was extremely impressive. He was always willing to share this generously with colleagues involved in Allergy Charities in many countries. He will be much missed.
Lynne Regent, past CEO of Anaphylaxis Campaign, UK
Frans Timmermans was my first contact to join the POC. I have a strong memory of him because he guided me to apply to join. He was always listening, passing on information and especially the first to make us feel that regardless of our training we were a family dedicated to allergic people. He is a great man who has left for other horizons, but I will keep in me his fervour for the cause that we defend and that unites us.
Anita Fossaluzza Schopfer, Association Allergissima, Switzerland
I met Frans many years ago when the US food allergy group (FARE) brought together organizations from around the world to learn about advancements in the field of food allergy. Frans was a passionate advocate for people living with food allergy and was an integral player in the international patient community. I admired his ability to collaborate with many – he was warm, intelligent, and funny. After long conference days, we always managed to enjoy meals together in some fabulous cities. Frans loved his family deeply. He was a proud father and husband, who was quick to share photos of his wife and children whenever he had the chance. Frans and I shared a passion for scotch; it was our habit to enjoy one (or more!) whenever we met. Tonight, as I sip my scotch, I'll think of Frans – may he rest in peace.
Laurie Harada, past Executive Director Food Allergy Canada 
My thoughts on Frans can be simply summed up as – gentle soul, kind heart and a fierce advocate for the patient community.
Jennifer Gerdts, Executive Director Food Allergy Canada
When I think about Frans, I remember his kindness, commitment to food allergies, his love for his family and good sense of humour. After an email conversation, I met him for the first time in 2006. I will never forget he came to Italy by car to explain the benefits of networking and advocating together. He was always enthusiastic and full of ideas to put in place to support our community. He always led our community as a bonus pater familias, keeping calm and trying to understand our different points of view. His untimely death leaves us sad but proud to have had a pioneer as a friend.
Marcia Podesta, President and Founder of Food Allergy Italy
Like many others, Frans was there from the beginning, when I entered the PO-community in 2005. I remember him presenting a program at our meetings called CARE – and what could describe him and his achievments better than that.  For me, he was THE familiy guy. It was always his daughter, who he had with him in all his presentations and who also once accomanied him to a project-meeting in Berlin. At that meeting,  she spoke about her allergy in front of all the scientist and gave a great talk, which you could see, made him very proud. She was the source and inspiration for all his great work, that he has done –be it in the Netherland like setting up training courses for patients and teachers or on the international stage at ILSI or EAACI. Personally, I remember very fondly the first year, when I joined the International Food Allergy and Anaphylaxis Alliance, at the then annual meetings hosted by FAAN in Washington, where he and David Reading from the Anaphylaxis Campaign took me, the rookie,  with them for a walk through Washington, DC. We visited Barnes and Nobles and walked to the Lincoln Memorial. The walk became a fixed and much loved  routine for us in the following years. I will miss Frans, miss his dry humor, his knowledge, the news he provided, the articles that he shared, the beer we took at the bar after a long day of meetings.It is really hard to imagine the "Allergy Community" without him – but I am sure his spirit will stay with us and he will smile from where he is now. Cheers to you, Frans!
Sabine Schnadt, Dietitian, German Allergy and Asthma Patient Organisation

From the bottom of my heart, I'd like to express my deepest sympathy to Frans' family. Frans, we remember meeting you years ago in Virginia, US when we joined the POC meeting for the first time. From the start you made us feel welcome to the wonderful group that you helped create and maintain all these years. You celebrated each one of our achievements, you encouraged us to share our ideas and goals, and despite the distance between our countries, you always took the time to say hello and remind us that everything we do for our communities is valuable. We will miss you dear Frans. We will honor your legacy by welcoming newcomers the same warming way you did with us.
Patricia Camelo, Creciendo con Alergias (Growing up with Allergies) Chile
Frans was POC chair when I first joined EAACI, and indeed a great character and advocate whose insights I will remember.
Chiara Hartmann, EAACI, Marketing and Public Affairs Senior Specialist
Such a great friend, so dedicated to advocacy about allergies.
Yanne Boloh, Association Asthme & Allergies, France
Descansa en paz, amigo (Rest in Peace friend).
Angel Sanchez, Asociación Española de Personas con Alergia a Alimentos y Látex AEPNAA  (Spanish Association of People with Food and Latex Allergies)
Frans was a remarkable man, I met him at the initial POC meeting in Venice, Italy about 13 years ago. As I knew only a few people in the room, Frans reached out immediately, welcomed me, asked lots of questions and encouraged my active participation in the community. Since then, I have observed him do the same with new members of our group.
Frans was involved with a broad scope of POC activities – from guideline creation, to participation in organisation wide task forces, to reaching out to others to initiate new collaborations, to advancing a special interest in addressing psycho-social issues.
In addition to being a co-member of the POC, I had the honor of serving as Co Chair of the POC with him when he was Chair. He continued to provide advice to us as Immediate Past Chair of the POC in the recent years.
He was a terrific colleague, and close friend to us all. He never forgot our birthdays – as he initiated the group text of best wishes. Indeed, our last communication was on his birthday just a few weeks ago.
As I write this, I have an image of him smiling in his white hat, suggesting we have a scotch together!
Mary Jane, previously SVP of Food Allergy Research & Education, USA
Current Immediate Past Chair of the POC
Frans was such a wonderful warm person who took pains to welcome me into the group and was always kind while being such a fierce advocate for others. What a huge loss. Sending deep condolences to his family, friends and colleagues.
Emma Cook, ATOPICCO Network for Children of the Earth, Japan
A great loss felt by us all. Like many he was my first contact with the POC. Always warm, personable and encouraging. Family was his touchstone and over the years his love and pride in his children and grand-children was all-consuming. I don't think his motorbikes and dogs had a chance!
His advocacy was impassioned and effective, but I sense we will miss his friendship and generous spirit more. Smooth sailing, Frans.
Mark Dixon, CEO Allergy New Zealand Inc
When I came to my first meeting in EAACI as President of EFA, Frans took care of me and introduced me to everyone in POC. Later we both where in the Ethics committee together and he was always very supporting and I will miss him very much and grateful for getting to know him. He will be very missed.
Mikaela Odemyr, Swedish Asthma and Allergy Association (Astma och Allergi Förbundet)